COVID-19 Testing available from a UKAS-accredited private provider* listed on the UK Government website.
Offering At-Home and In-Clinic Testing:
Lateral Flow Tests
PCR Tests
Leaving the UK (Fit2Fly)
Arriving in UK (Day 2, 5, 8)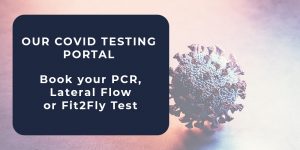 Our Covid Tests
We offer three types of Covid tests, all of which have been approved by Public Health England.
Covid-19 Antigen Rapid Tests
These are rapid antigen test performed in clinic or at home which can determine if you have an active Covid infection within 15-20 minutes. It has been reported to have a 97% accuracy rate and are UK government approved.
Covid-19 Polymerase Chain Reaction (PCR) Swab Test
A PCR test can identify if you have an active Covid infection. This can be performed in clinic or at home and then the sample sent to our partner laboratory. Results will be available within 24 hours. We also have the facility for Same day and a rapid 4 hour turnaround options available.
Covid-19 Antibody Rapid Tests
An antibody test can determine if you have antibodies from a previous Covid injection. This is a blood test and is performed in clinic on a lateral flow device. Our antibody test has up to a 99.63% accuracy rate for people infected within the last 3 months. Antibodies also develop within 3-7 days of infection starting so it can be used to pick up asymptomatic infections too.
Terms and Conditions
Our Cancellation Policy
Cancelling within 24 hours of booking your test online or via phone: No administrative fee
Cancelling with more than 24 hours' notice from the time of your appointment: £25 administrative fee
Cancelling with less than 24 hours' notice from the time of your appointment: £50 administrative fee
Failing to attend your appointment or no notice given: £100 administrative fee
No refunds are available if you have attended your appointment and/or samples have already been taken.
Any refunds or cancellation requests must be submitted to [clinic@staffordpcr.com] and it can take up to 21 days to be processed by our team and for funds to appear in your account.
Frequently Asked Questions
Will I get my results within agreed timeframe?
 Please note that we use an external laboratory partner for all PCR tests and have no control over their processing times once we have delivered the sample to them. You may also be required to do a repeat test as up to 1% of tests can be inconclusive, which could impact the timescale in which you'll receive your result. We are also partnered with Royal mail with a business tracking service but again cannot guarantee their turnaround at all times.
We will do our very best to ensure your result is returned within the agreed timeframe, we are unable to accept liability or provide any compensation for costs incurred due to delayed results.
How do I book my test?
Please go to our Covid test portal to book your test.
Your test must be booked, registered and paid for online. We do not accept cash payments in clinic.
If you need to change your booking, either call us on 01785 747702 or 07908 478 540 or email us on info@staffordpcr.com.
Which test do I require?
We offer the following tests:
PCR Test – this test is to identify active infections and can be performed in clinic or sent to you at home to self-test.
PCR Fit to Fly Test – proof of no infection with an accompanying travel certificate. Available in clinic or at home.
PCR Day 2, 5, 8 and test to release certification on return to the UK from overseas or when visiting from overseas.
Rapid Antigen Test – this test is to identify active infections and results are available within four hours. Available in clinic and at home.
Rapid Antibody Test – this is a blood test to identify the presence of antibodies from a past Covid infection. Available in clinic.
Are travel certificates included in the cost of my test?
Our prices include travel certificates if you require one.
What happens if I am attending the clinic for a test?
Please attend just prior to your appointment time as this helps us manage patient flow.
COVID TESTING @ STAFFORD CLINIC
1. Upon arriving at the car park please park towards the rear spaces which will be designated for Covid testing and screening.
2. Then call 01785 747702 or 07908 478 540. Please let us know if you wish to have the test as a 'drive through' in the car park without exiting your vehicle.
3. You can elect to come into the clinic and you will then have your temperature taken and follow our hygiene processes as directed by our clinic staff. Please note there is a one way system in place through the clinic ordinarily.
4. The main entrance is via the side door and exit will be via the rear entrance down the wheelchair ramp.
5. Please bring along some photographic ID please.
Your test will then by undertaken by a trained healthcare professional and once your sample has been taken you can leave the clinic. You will then be emailed with your test results. Each appointment should be approximately 10-15 minutes.
How do your home test kits work?
Once you have booked and paid for your home test kit online, you will receive your PCR testing kit in the post sent via Royal Mail signed delivery. The kit will include everything you need to complete the test and clear, step-by-step instructions. The sealed swabs are then sent back to our partner laboratory for testing.
To ensure a rapid turnaround, we advise patients to send their test back using the supplied Royal Mail tracked envelope with the pack to ensure prompt delivery to the laboratory for next day results. Occasionally if this arrives late in the day then it maybe be 48 hours for your results. Please plan to allow up to 72 hours from your journey to ensure there are no delays.
When can I expect my results?
Antibody results are received within 30 minutes in clinic and you will be emailed your results or can call to receive them.
PCR and Fit to Fly tests are returned within 4 hours, on the same day 12-24, next day or within 48 hours from when the test is taken, depending on the test product you have chosen, and you will be emailed your results.
What should I do if I test positive for coronavirus?
Please read the most up-to-date guidance from the UK government.